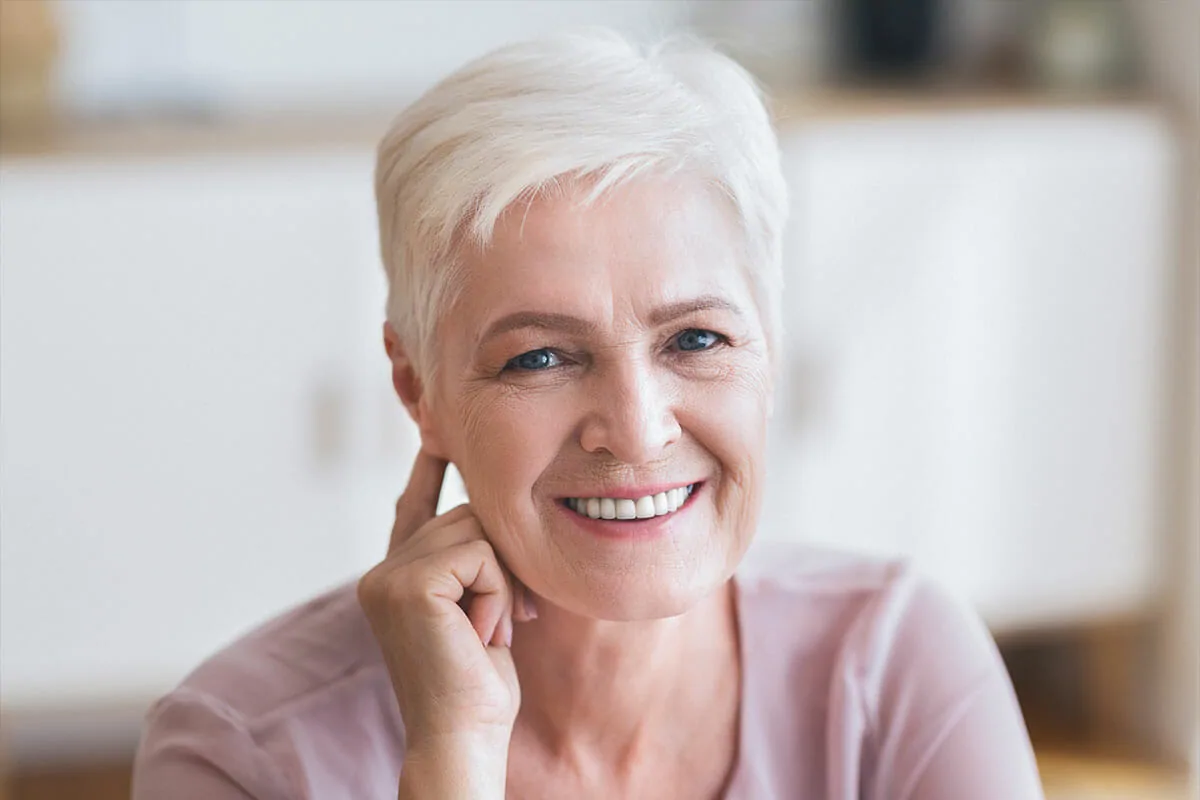 At London Dental, we are proud to offer our community a variety of services to help make your smile fulfill its potential. We offer the following restorative dentistry services:
Crowns and Bridges
Crowns and bridges are used to restore and enhance teeth that are damaged or to take the place of missing teeth.
Crowns
A crown (also referred to as a cap) is used to entirely cover a damaged tooth. A crown not only strengthens a tooth, but it can dramatically improve a tooth's appearance, shape and alignment. Crowns may be used to:
Replace a large filling when there is little tooth structure remaining
Protect a weak tooth from fracturing
Restore a fractured tooth
Attach a bridge
Cover a dental implant
Cover a discolored or poorly shaped tooth
Cover a tooth that has had root canal treatment
Bridges
A bridge is an ideal method to fill the space created by missing teeth. A bridge is one or more artificial teeth cemented into place using the teeth on either side for support. This is an option for filling the space created by a missing tooth. Bridge work is as much an art as it is an exact science since it replaces a missing tooth both functionally and cosmetically. The materials used may be gold alloys, porcelain bonded to metal alloy, or all ceramic material made to match your natural tooth color. The choice of material depends on requirements for strength, wear, and aesthetics.
It is important that a missing tooth be replaced as soon as possible. If not treated, the teeth surrounding the gap begin to shift inward. Since teeth use their neighbors for support, if one is missing they begin to "fall" and shift into the open spaces. This may worsen the bite because of the changes in pressure and can eventually result in problems with the jaw such as TMJ.
Bridges and crowns are made by first taking an impression of your mouth. The impression is sent to a dental lab where your crown or bridge will be custom made to fit your mouth and match your natural tooth color. A temporary crown or bridge will be placed into your mouth until your permanent crown or bridge is ready and cemented into place.
Bridges and crowns are very durable and can last a lifetime with extra care and good oral hygiene.
Bonding and Fillings
Bonding
Bonding involves adhering composite resin material that is matched to the color of the tooth, to the front of the tooth. This is performed to repair damage caused by decay, to alter the alignment of the tooth, close gaps between the teeth, or for other cosmetic purposes.
First the surface of the tooth is roughened in order to accept the bonding. A gel is applied so the resin will adhere to the surface of the tooth. The composite is then placed on the tooth and the bonding agent hardens with intense light. The last step is shaping and polishing to give a lustrous finish.
Fillings
A filling is a way to restore a tooth damaged by decay back to its normal function and shape. If you have a tooth that requires a filling, the dentist will first remove the decayed tooth material, clean the affected area, and then fill the cleaned out cavity with a filling material. A filling helps prevent further decay by closing off any cracks or spaces where bacteria can enter.
There are a variety of filling materials available including gold, silver, plastic and porcelain. The dentist will work with you to determine which material is best, depending on the extent of repair, where in the filling is needed, and cost. Each filling material is briefly explained below:
Amalgam (silver) fillings are a more inexpensive choice and are tolerant to wear. However, due to their dark color they are more noticeable than porcelain or composite restorations and are not recommended for fillings in very visible areas such as front teeth.
Composite (plastic) resins are custom made to the exact color of your natural teeth, creating a more natural appearance. While white fillings may be less noticeable than other materials, they are durable but may not be ideal for large fillings as they may chip or wear over time. They can also become stained from coffee, tea or tobacco.
Porcelain fillings are called inlays or onlays and are custom created in a lab and then bonded to the tooth. They can be matched to the color of the tooth, resist staining, and are about the same cost as gold fillings. A porcelain restoration generally covers most of the tooth, making the filling nearly undetectable.
If decay or a fracture has damaged a large portion of the tooth, a crown (or "cap") may be recommended. Decay that has reached the nerve may be treated through root canal therapy or through a procedure called pulp capping.
Root Canal Treatment
Root canal treatment (also referred to as root canal therapy or endodontic therapy) is made necessary when an untreated cavity reaches all the way to this pulp. Treatment may also be needed when deep restorations or trauma to a tooth cause nerve damage. Once the pulp becomes infected, and can begin to eat away at the surrounding bone (this is known as an abscess). If the pulp is infected, not only is it painful but it will require treatment as it cannot heal on its own. Symptoms that indicate the pulp has become infected may include sensitivity to hot/cold or sweets, pain, swelling, pain to biting or pressure, and a bad taste in the mouth. However, sometimes no symptoms are apparent and you may be unaware of any problem until a checkup.
A root canal is performed to clean out the infected tooth pulp and disinfect the canals of the tooth. Alternate treatment would be to extract the tooth. Once the infection is resolved, the canal is filled in to prevent any further infection. Usually a core build-up and crown is recommended for restoring a tooth that has undergone root canal therapy.
Non-Surgical Gum Treatment
The gums, ligaments, and bone around the teeth form the foundation for teeth. All structures are also referred to as the periodontium. When the periodontium is not healthy, it jeopardizes the teeth just as a bad foundation would threaten the stability of a house. Signs of unhealthy periodontium include: gums that are red and bleed easily, persistent bad breath, gums that are pulled away from the tooth, loose teeth, and changes in the position or bite of the teeth. With proper gum treatments, it may be possible to return gum tissue to a healthy state.
If you're having a problem, come in and see us so we may treat it right away. The treatment usually involves a deep cleaning or root planing done under a local anesthetic, along with local antibiotic agents. It is important to have gum problems checked promptly, as gum disease left alone may eventually need treatment through surgery or extraction.
To learn more about our restorative dentistry services or to schedule an appointment, call London Dental today at 740-852-5771.